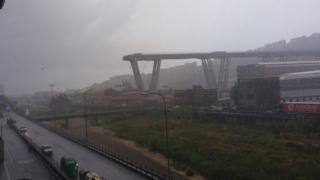 A major bridge has collapsed near the city of Genoa, Italian police say.
The bridge, a part of the A10 motorway, is about 100 metres tall, Italian media say – and there are unconfirmed reports that cars may have been involved.
Photographs from the scene show huge sections of rubble on the ground underneath the middle of the bridge.
One image shared by Italian firefighters shows a truck perched at the end of the surviving bridge section immediately before the drop.
There are no reports of casualties.